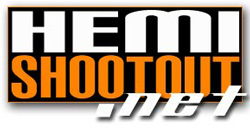 The 2008 NHRA US Nationals have been taking place in Indianapolis this week. In amongst the racing in the Superstock division has been an event within an event – the MOPAR HEMI Challenge, otherwise known as the Hemi Shootout.
In association with Nash Performance, Pilote Media have provided fans of these cars with unprecedented news, results and images from the event via a new site: hemishootout.net
Pilote Media designed a new logo for the site as well as consulted on website strategy and launch.
As well as covering this week's US Nationals, the site is updated with official results for the whole Hemi Challenge season.