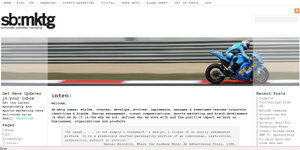 Pilote Media was asked by Somerville Baddeley Marketing to create a website that was clean, easy to update and tapped into some of the emerging social media technologies available.
The new SB:MKTG site allows the company to quickly change copy through a simple Content Management System and also incorporates a blog that is already becoming an authoritative source of news from the powersport sponsorship marketplace.
Other social media type functionality includes:
ShareThis integration – allowing visitors to republish information to sites like Facebook and Digg.
Twitter Account Integration – automatic posting to twitter when the blog is updated.
Blog to Email Integration – allows readers to sign up to the blog and get it in their inbox daily.
Denis Baddeley, Principal of SB:MKTG said:
Having worked with the team from Pilote Media in the past on big projects for the likes of NASCAR and MotoGP, we know that they understand emerging media better than anyone else. We wanted to be ahead of the curve without having to spend ages testing every web 2.0 plugin and widget ourselves. Pilote Media gave us the functionality that is relevant now with typical down to earth style…
The new SB:MKTG site can be found at http://www.sbmktg.net