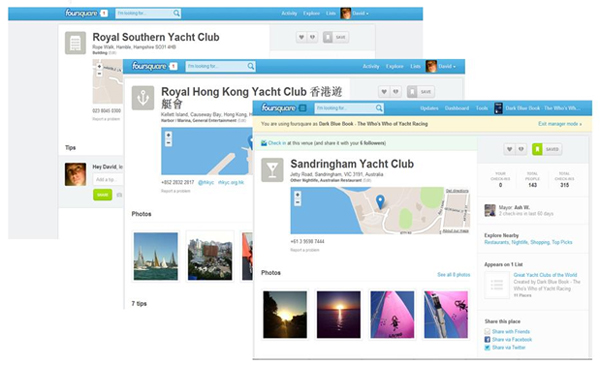 Last week, Pilote Media CEO David Fuller presented to the annual Commodores' Forum of the International Council of Yacht Clubs (ICOYC) hosted by the Royal Southern Yacht Club. The topic of the presentation was about how Yacht Clubs might use social media to communicate more effectively – especially with a demographic that some clubs have a hard time attracting.
The Commodores' Forum brings together the top officials from the largest yacht clubs in the world including the Royal Hong Kong Yacht Club, St Francis Yacht Club (San Francisco) and Sandringham Yacht Club in Australia. Some of the clubs represented have no social media presence, others have multiple Facebook pages, YouTube Channels and use technology like Coveritlive.
David's presentation brought together almost a decade of experience working with various sporting brands and early social networks like Bolt.com. The message hasn't changed in 10 years.
Once you have permission to communicate, think of your audience. Make your content relevant and timely.
The 45 minute speech covered many of the advantages of some of the major social media platforms including YouTube, Facebook, Twitter and Foursquare. His key thoughts were:
Social Media is Not going away – Yet.
Social media might still be a fad and that fad might be replaced by something we haven't even thought of yet, but it is a fad that millions of people use several times a day everyday. For the time that it is here, social media is something that should be part of a yacht club's marketing and communications mix.
Social media skews young and also has a gender bias in favour of women. This presents an opportunity to engage with an audience that maybe under represented in many yacht clubs. However the communication has to come from peers. This means giving younger members of the club responsibility for communications on behalf of the club – no matter how scary that seems to the flag officers.
Mind Share
David monitors several feeds in the course of any given day. As the editor of Yacht Racing Business he looks at over 90 RSS feeds. To keep up with his mates back in Australia, he dips in and out of Facebook. To see what issues are top of mind with people who he respects, he uses Twitter. To develop his business contacts around the world he uses LinkedIn.
If you are not in his feeds, you are not in his mind.
Social media gives you a relatively cheap and efficient way to become part of your members' daily lives. Not once a year, or once a month, or twice a week, but potentially every day.
The full transcript of David's presentation about Social Media for Yacht Clubs and Sailing Clubs can be obtained by contacting us.
Pilote Media has also launched a specially designed 1 day workshop for Yacht Clubs that want to know more about how to use Social Media.